What rules the heart of any bride when dreaming about her wedding? The dress of course! With so many talented creatives in the industry, we are swept away by revolutionary designs that tailor the trends every year. Some become timeless, and others are slowly shifting the limits of the conventional, making room for the new modern bride. That being said, if you are planning your iconic day, we are sure you are dying to see which are the wedding dress trends 2021! Today we are listing the most popular ones which you can also find in our bridal shop in San Francisco!

1. Off the shoulder sleeve dresses

We are loving the romantic vibe of the off-shoulder sleeve designs! The best thing about them is that you can basically adapt them to any dress design, making them perfect for any silhouette. So if you have been dreaming about wearing an ethereal gown with such features, off-shoulder sleeves will accent your complexion and beauty! This is one of the wedding dress trends 2021 that is expected to go strong in the future because let's face it, who could possibly say no to it?!

2. High Slit dresses

Flashing a bit of skin in the most sophisticated manner is a trend that has caught up with the wedding industry with one single purpose - to highlight the modern bridal beauty while being unapologetically elegant and sexy! The options are also versatile in this case. You can opt for a silhouette that accents your curves, or go for a classic styling with a high slit that adds that perfect contemporary flair!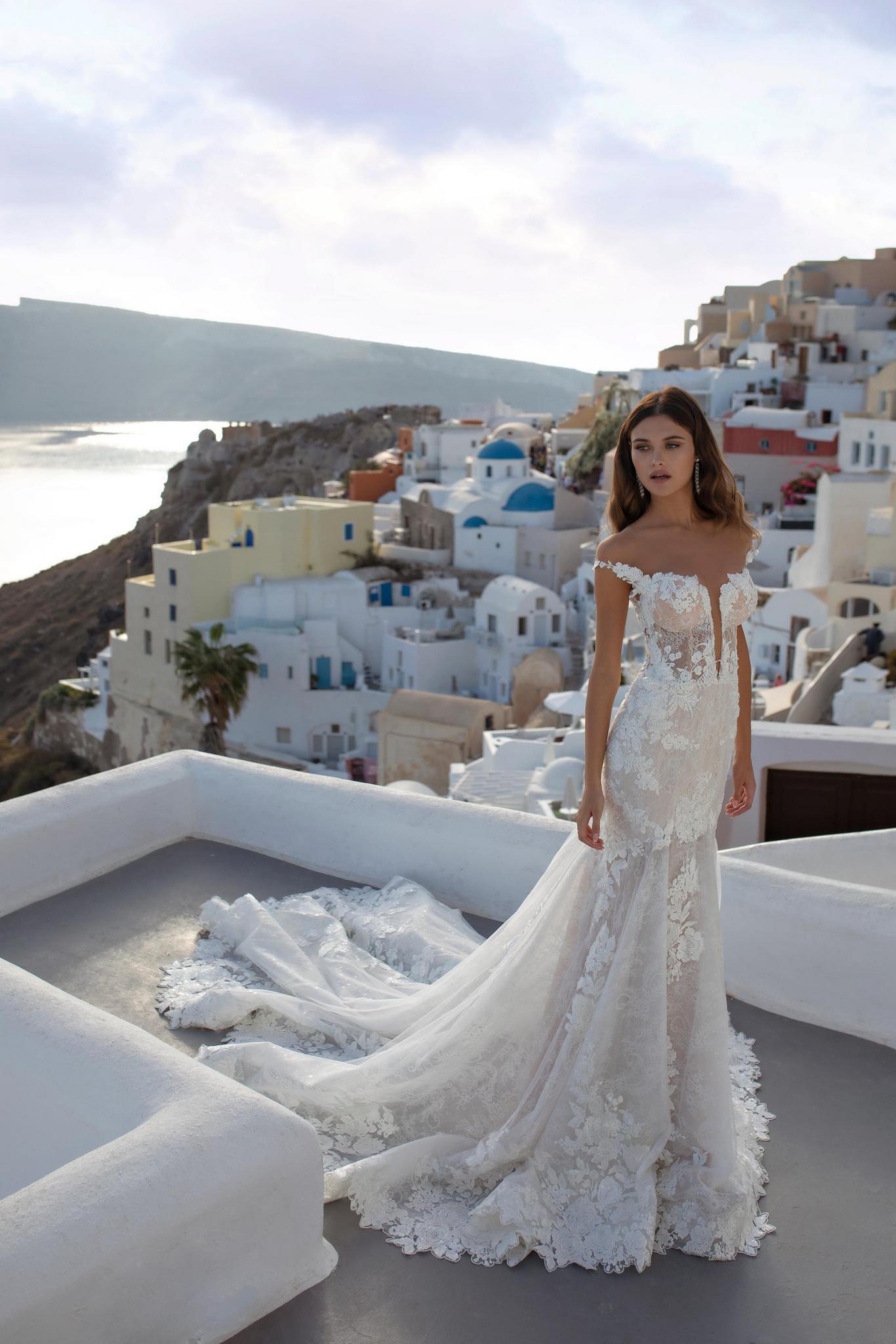 3. Bold Lace - a new take

We can all agree that we are all about designer wedding dresses that have bold and unique prints! There is something about lace that keeps inspiring all creatives so we are more than excited to see so many new lacy gowns in our bridal shop SF. It doesn't matter whether you are in love with a mermaid, A-line, or any kind of dress silhouette, the bold lace is slowly taking over with a new unique wave that looks absolutely magical on brides! Additionally, it leaves a striking appearance, so better be prepared to have all eyes on you!

4. Backless Designs

One of the wedding dress trends 2021 that we see more of day by day! It is the modest yet sexy flash of skin at the back that elevates the whole dress. A sultry look that will leave everyone in awe. What we love about these designer wedding dresses is the fact that they look gorgeous in photos when tilted to an angle.

5. Slip Dress Designs

If you thought that the minimal clean beauty will be gone in a few years from all the lavish designs that emerge, you couldn't be more wrong! These gorgeous laidback pieces are going strong with their simplicity and effortless elegance. Brought once by fashion icons in the 90s, they have made a comeback and are sold in wedding boutiques across the world.



6. Short length dresses

Even though they are shorter in length, these designs have a bold appearance that is an ode to the contemporary bride who feels confident to be herself on her wedding day! These kinds of designer pieces leave room to accessorize or to accent your look with amazing shoes. If you aren't keen on wearing a short dress on the day, such a design would be also perfect for any rehearsal dinners or bridal showers.

7. A Comeback - Square Neckline

If we go deeper into history, this trend dates back to the Regency and Renaissance eras! Also, it was once popular during the 80s and especially the 90s, and now it has made a glorious comeback. When opting for such a gown, your collar bone and shoulders will become more pronounced. Fabrics that look magical with this neckline combination are floral lace, heavy satin, and crepe.

What did you love most about the wedding dress trends 2021? We are sure that you already have some favorites, care to share with us? We are curious! If yes, then you can find all of these gorgeous trendy dresses in our bridal shop in San Francisco. Book an appointment now to discover all the stunning pieces!